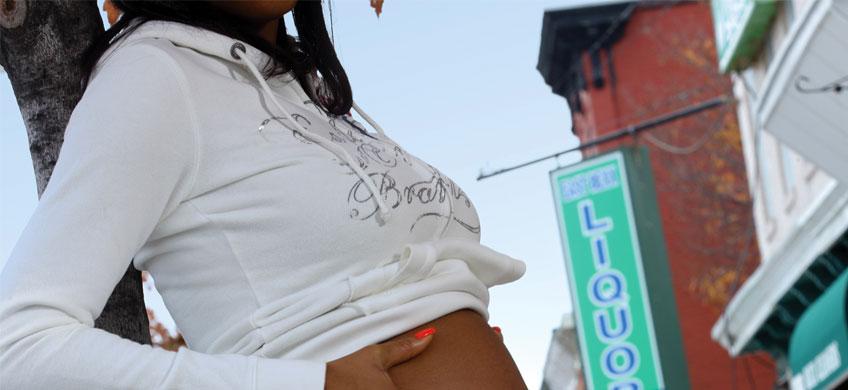 (page 3 of 3)
Wednesday, 1:30 on a September afternoon, and about 70 Bloomberg School students are scattered across the wood-paneled, cozily lit Sheldon Hall auditorium, a third of them with laptops open. They're gathered for department chair Robert Blum's Life Course Perspectives on Health, a class Guyer created when he was chairman, a position to which he was recruited from Harvard in 1989 and held until 1998. He's here today, tieless in a khaki suit, to take part in a panel presentation on infant mortality.
One co-panelist is Rebecca Dineen, of the Baltimore City Health Department. This past April, as the result of a study Guyer helped conduct, the mayor's office announced a three-year plan to decrease the city's infant-mortality rate, which is especially high among African-American families, at 15.5 per 1,000 live births. In 2008, Dineen says, 120 babies under the age of 1 died in Baltimore—the highest rate in the state. The new program targets 12 of the city's 55 neighborhoods, providing medical and family-planning services aimed at preventing such causes of death as low birth weight and sudden infant death syndrome, which, over the last decade, have accounted for up to 20 percent of the mortality rate. The solution, with SIDS, is simple: Teach parents the basics of "safe sleep," including not allowing an infant to sleep in the same bed as a sibling or its mother.
Explaining to the students that homes in Baltimore's underprivileged neighborhoods often lack adequate bedding, Dineen adds that education is also a challenge. More than any other source, young mothers, she explains, turn to their own mothers for advice. So, as part of the program, they are going into churches to disseminate safe-sleep tips to grandmothers.
When someone asks whether other cities' programs served as models for Baltimore's, Guyer pipes up, "I don't think any other place has done this." But each program, he adds, must cater specifically to its beneficiaries. "I'm a great believer that you have to look at, and understand, the local population. You can't just borrow someone else's intervention."
You can learn from it, however. Case in point: the program that excites Guyer the most, the UK-based Sure Start. It's a government-operated network of 3,500 centers, each providing health, education, child-care, and family-support services to families within "pram-pushing" distance. Guyer, who visited a few centers last summer, says they're also equipped with "brilliant" kitchens, in which nutritious lunches are made for the kids, staff, and parents, who are taught how to prepare and cook healthy meals. But replicating the Sure Start system in the United States isn't possible at this time, according to Guyer. The British government was able to pass legislation funding the centers, he explains, because, while "the British believe that parents are responsible for their children, they also believe that the community and the government have a stake in that responsibility." Americans, he adds, "haven't shown the willingness to make such a large-scale investment. We tend to ignore the structural, society-wide forces that shape the futures of these families. We have the tendency to look only at the individual family characteristics and focus on how they can make it on their own."
But, as a life-course-oriented model, Sure Start is valuable, especially when thinking about the future of public health in the United States. "What I would like to see as a next step is that we begin to think about the earliest period of childhood, including prenatal and preconception, in a way that we may need to create an entirely new institution, to begin to put into place those changes which will result in maximizing health," Guyer explains. "Some of it has to do with parenting, some with nutrition, some with environment, some with medical care. But right now, we don't have a way of maximizing kids' potentials." Asked what the American version of Sure Start might look like, he says that, without government assistance, it might have to be created in small steps at the local level, starting with young mothers bringing discussions and resources to places where they usually gather—anywhere from a school to a coffee shop. "When I look at my neighborhood, in Baltimore, where do you find all the young moms? They're running with their push-strollers to Starbucks, and they're all sitting there, drinking coffee. That's where they're talking about their babies."
Guyer doesn't claim to have all the answers. "My biggest role now," he explains, "is to put the research out there and try to make the case for a life-course approach. Then some clever person will come along and figure out what is the model that links these things together better than I can." Neal Halfon, Guyer's counterpart at UCLA, sees in the Obama administration, and its attempts at health care reform, the seeds of such an approach. "We're hoping that Congress will serve up the tools, resources, and direction that will allow that to happen," he says. How long it will take, no one in public health seems to know. But Guyer hasn't given up hope. "We used to think it was impossible to reduce tobacco exposure or to protect people in cars," he says. "I just don't believe in the impossible."
Rich Shea is a freelance writer who lives with his family in Columbia, Maryland.