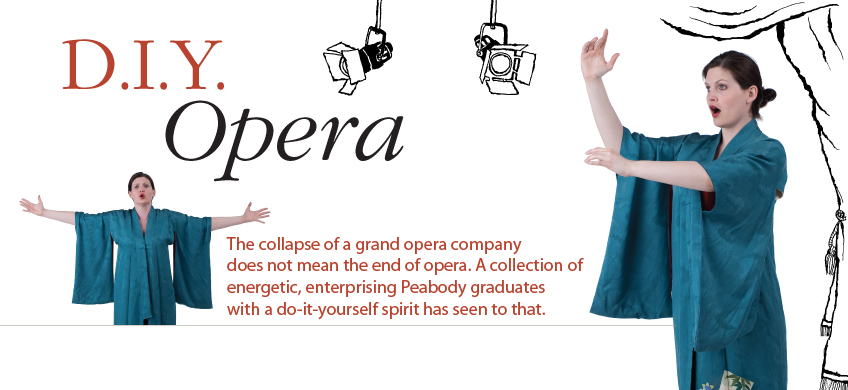 A third Peabody singer, Caitlin Vincent, Peab '09 (MM), followed a path similar to Stewart's. As an undergraduate history and literature major, she had already directed The Marriage of Figaro, which she calls "kind of the chick lit of opera," for the Dunster House Opera Society at Harvard. As her graduate vocal study neared its end, she wanted to stay in Baltimore to continue working with Peabody faculty. But she was worried about her future. "Baltimore Opera closed, and everything pretty much imploded with the recession and all of the arts funding going away, and I started to get really concerned that I'd have no place to sing," she says. Several of her Peabody friends were in the same fix. "So I said, 'What if we did a concert together?' Then I was like, 'Why don't we do Figaro?'" She recruited 13 singers, signed on JoAnn Kulesza, music director of opera programs at Peabody, as conductor, and engaged pianist Michael Sheppard and the Carnelian String Quartet to accompany the singers. They shot a set of mock video interviews with characters from the opera to create an ultra-cheap YouTube publicity campaign. In May 2010, they performed their version of Figaro, called The Figaro Project, at the First Lutheran Church, near the Johns Hopkins Homewood campus. Vincent estimates they drew an audience of about 100, and she says they immediately regretted not having planned a second performance. Their 2010–2011 season as an ensemble (named after their first production) will include two cabaret performances and a night of new one-act operas by Paul Mathews, dean of student affairs at Peabody, and Peabody doctoral students Doug Buchanan and Joshua Bornfield.
"I love grand opera," Vincent says. "I love the experience of going to the big opera houses, but I can't afford to go. It's expensive, there's an element of snobbery, and the audience is getting smaller and smaller because they're getting older and older and dying out. With Figaro Project, what I'm trying to do is revitalize it, re-engage the youth, and show that opera doesn't have to be done on a $4 million budget. It can be done for $1,500 in an entertaining and accessible way."
A $4 MILLION BUDGET. That's roughly what the Metropolitan Opera in New York committed to its September production of Das Rheingold, first in a new staging of Wagner's four-opera Ring Cycle that will cost the Met an estimated $16 million. You want grand opera? It's going to cost you, both to produce and attend. Advocates like to point out that the Metropolitan Opera does sell $20 seats. In a New York Times article last February, the Met noted that about one-third of its seats for the upcoming season would sell for less than $100. Of course, that means two-thirds go for $100 or more, and even playing to many full houses at those prices, the Met has a $47 million deficit, in part because the recession smacked down its endowment by 26 percent, according to a recent analysis by Vanity Fair.
Production costs have soared to the point where some major companies manage to recoup only about 25 percent of those costs from ticket sales. The rest has to come mostly from the generosity of philanthropic patrons. Bowen of Opera Vivente believes everything has become too big: the opera houses themselves, the production costs, the big-time soloists' fees. "I think the idea of the jet-set superstar opera singer has to be rethought. You know, I think it's lovely that Renee Fleming will go sing wherever someone writes a big enough check. But if you're running a company, you have to ask yourself, 'Am I really going to recoup Ms. Fleming's $20,000-a-night fee?'"
Tim Smith of the Sun appreciates the efforts of the new ensembles, but for him they don't replace the Baltimore Opera. "I wouldn't go to as many of these things as I do if I didn't believe they were all worthy. [But] there's still something missing. I've taken some flak from some of these companies when I write about the need to have grand opera back. They just think I'm dismissing all other opera forms. But that's not it. It's that I do miss the full orchestra, full sets, full chorus, singers who are fully competent in those roles, and soloists who are fully developed artists—the kind of thing you get out of a major company."