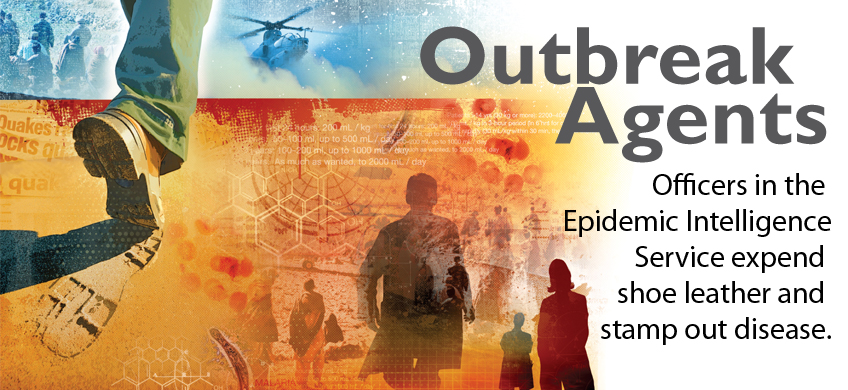 After the war broke out, Sommer would work in refugee camps, vaccinating people to protect them from an outbreak of smallpox, publishing later that people exposed to the disease could be cured up to eight days after they became infected. He also performed large studies on the nutritional status of children and how such information could be used to predict mortality rates.
"I was trained as an ophthalmologist, but I was really swayed by the idea of doing public health because of my time in the EIS," says Sommer. If it weren't for a post-EIS residency at Johns Hopkins' Wilmer Eye Clinic, "I would have done disaster epidemiology. I remember doing my residency and, during rounds, the doctors were talking about the red eye of one patient. I thought, 'I've been dealing with these large populations and publishing papers and you're talking about one red eye? What am I doing here?'" Sommer would get in the swing of things regarding his career choice, eventually combining his ophthalmology practice with public health. His subsequent studies in Indonesia led to a vitamin A supplementation treatment for infants that has saved millions of children in the developing world from blindness or death.
THE "BOYS' CLUB" OF YORE is no more at the EIS. Even though the so-called doctor draft ended along with all conscription in 1973, the EIS had no trouble getting people to join. A lot of that is due to women, who have made up more than half of recent EIS classes and have often led the agency into new epidemiological areas of study.
"Even without the Yellow Berets, the EIS has thrived," says Pendergrast. "By the mid-1970s, there was a lot more interest in public health than when it started. The EIS became known as an elite corps that would be a boon to any public health career." Those careers were built in part on new methods devised to understand an ever-wider array of public health problems, such as chronic diseases like cancer, diabetes and obesity, and environmental pollution.
So, even as the work of the EIS was central to the discoveries that aspirin caused Reye's syndrome in children, certain tampons created the perfect environment for toxic shock syndrome, and early cases of AIDS in Los Angeles in 1980 were caused by a specific disease that ravaged the immune system, other EIS officers went to work tallying the costs of tobacco use in Georgia, the health damage caused by mercury poisoning from house paint and the effects of guns on youth mortality in the United States.
Certain types of studies, including women's health and reproduction, have become more prominent as more women have applied for and accepted EIS appointments. That focus led Andreea Creanga, SPH '90 (PhD), to look toward the EIS to get her career started. Having earned a medical degree in her native Romania before she came to Baltimore, she had written her dissertation on the use of emergency contraception in Ghana. "That taught me how much I can learn by being in the field," she says. "I realized I could benefit even more by doing guided fieldwork, like what the EIS offers."
She joined the Service's Division of Reproductive Health in July 2009. Within three months, she was in New York City as part of an EIS team investigating the effects of the H1N1 virus on pregnant patients at 30 hospitals. The team scoured hospital records and interviewed health practitioners and learned that expectant women were much more likely than other patients to suffer the virus's effects. Many more of them ended up in intensive care units with their pregnancies in peril.
Creanga was lead author of a paper published on the study in the journal Obstetrics & Gynecology. The team also presented its findings in the CDC's house journal, Morbidity and Mortality Weekly Report, a once little-known publication that Alex Langmuir had rescued from obscurity decades earlier. The papers recommended that physicians disavow the long-standing practice of avoiding the prescribing of anti-viral drugs for pregnant women, particularly ones who carry the H1N1 virus. "We recommended that they make changes in guidance," she says, citing the term of art for how physicians advise their patients. Because of the findings, the CDC now recommends anti-virals for pregnant women—the sooner the better for H1N1 patients.
"These weren't the only papers published on this, but we got them out there really quickly," says Creanga. "This is what makes EIS a really amazing place to be. You're more likely to see results from your work."
Results that have revolutionized the art and science of public health for half a century.
Michael Anft is Johns Hopkins Magazine's senior writer.