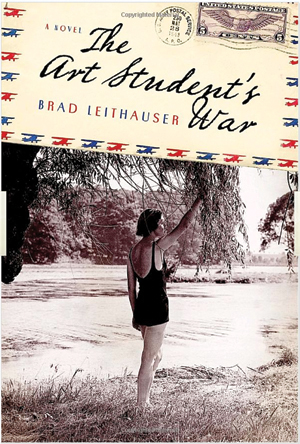 For young Bianca Paradiso—the protagonist of Brad Leithauser's newest novel, The Art Student's War (Alfred A. Knopf, 2009)—the first crucial decision of her adult life must be made while standing in the aisle of a crowded Detroit streetcar. In the book's opening scene, it is 1943, and a wounded soldier (on crutches, no less!) offers Paradiso the car's sole open seat. The choice she faces—to take it will seem cruel, she thinks; to refuse it could be emasculating—marks the first of many pivotal moments and challenges she will face throughout the book's 496 pages.
The scene was inspired by a true incident involving Leithauser's father, a wounded World War II veteran, "after he got on a Detroit streetcar with my mother and he refused to take a seat offered to him. I loved that anecdote," he says. "That whole incident continued to haunt me." First it inspired Leithauser, a professor in the Writing Seminars, to write a poem in his mother's voice, titled "Purple Heart." Though he carried other family anecdotes and memories of his 1950s Detroit childhood with him for decades, the idea to tie them together into a novel didn't take root until about 2003, when he suddenly realized "Purple Heart" was a perfect beginning to a novel. "When I got started, I wondered, 'Why did it take me 20 years to see this?' I don't know. It was such a good idea staring me in the face."
Autobiographical details and inspiration from family stories form the core of Leithauser's dense and emotional work, which follows Bianca, a young art school student based on Leithauser's mother-in-law, as she matures in a city that is changing in unexpected ways. She takes her first lover; mingles with Detroit's high society; endures acidic familial grudges; withstands several crises; and tries to discover who she wants to be at the same time she is becoming that person. The characters are familiar but not caricatures, and Leithauser's vibrant re-creation of his hometown makes the city an omnipresent character in the story.
Leithauser's career has carried him across the globe, from Harvard Law to drama critic for Time magazine to a 21-year stint teaching at Mount Holyoke College in Massachusetts, with stops in Japan and Europe. (He's also an Icelandophile, and a 2005 member of the Order of the Falcon, that nation's majestically titled literary award.) He arrived at Johns Hopkins in 2008, one year after his wife, Mary Jo Salter, who is professor of poetry and director of graduate studies in the Writing Seminars. Leithauser has published four books of poetry and six novels, including this one. One of the novels is written in verse.
To reawaken the city of his parents that he learned about as a youth, Leithauser acquired a variety of period ephemera. "When I was writing, I picked up—on eBay, for five or 10 dollars—official bus and streetcar maps of Detroit from 1942, or menus from restaurants," he says. "I put them up on the wall of my office. I spent a lot of time going through back issues of The Detroit News. If you stare long enough at ads for hats, it will permeate your writing in ways you can't describe.  If you do it long enough, the world will begin to seem real." Of his decision to revisit the city of his youth, he says, "Childhood roots run deep. [The book] is a tribute to my parents, and the people of Detroit in the 1940s."
The novel comes out in paperback in November. For his next work, he's going to try to go a bit shorter. "I didn't think the book would be 500 pages," he says with a small laugh. "When I'm teaching this spring, I'm teaching novellas, so I'm going to try to write my next novel a lot shorter."
Two other faculty in the Krieger School also have recent books. Writing Seminars senior lecturer Glenn Blake published Return Fire (Johns Hopkins University Press, 2010), a collection of seven short stories. The stories share a common setting—Blake's native Southeast Texas, a land of low marshland and waterways—and portray the people who reside there.  Blake describes his upbringing as being "in a land of bayous, raised between rivers." The characters are often damaged souls, fueled by desperate circumstance and broken promises. Sometimes they are trying to make things better; other times, they are simply trying to survive. Through all the stories, Blake's writing carries the wet, lonesome feel of the Southeast Texas landscape, and the tightness and tension of his protagonists. Return Fire is his second collection.
Franklin Moses, the 75th governor of South Carolina, is the subject of Benjamin Ginsberg's Moses of South Carolina: A Jewish Scalawag during Radical Reconstruction (Johns Hopkins University Press, 2010). Ginsberg, professor of political science, describes Moses as in many ways the worst nightmare for white, segregationist South Carolinians in the late 1800s. Son of a Jewish father, Moses was a Republican governor from 1872 to 1874 who used a militia of freed African Americans to maintain power, quash opposition, and even avoid arrest after indictment for financial improprieties. Ginsberg's book presents a complex picture of the man known as "The Robber Governor."
"By today's standards, he was quite a visionary and progressive," explains Ginsberg. "He's a fascinating, forgotten figure. He socialized with blacks, invited them over to his house, and played pool and danced with them. He integrated the state university. So Moses was hated for flouting South Carolina's racial code." After more than 230 years, Moses' image remains tarnished. "He's still a hated figure in South Carolina. I was in Charleston, giving a speech to a Hopkins alumni group and speaking positively about Moses, and I got yelled at."