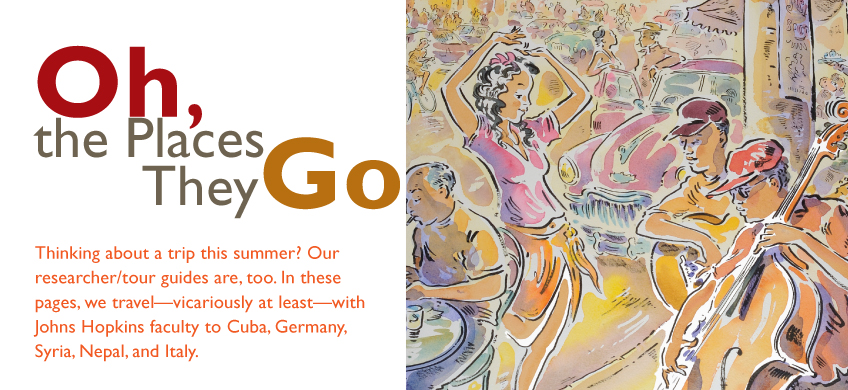 Baltimore may be home base, but for many in the Johns Hopkins community, travel is an essential part of the job. Research, scholarship, and clinical trials take faculty all over the world, and for some, years of dedicated study have fostered an intimate relationship with a particular locale. Here we talk to five Johns Hopkins faculty about the research that keeps them traveling to one place year after year and the lessons they have learned, not only about their area of interest but also about the people, the culture, and the place. From Cuba to Kathmandu, Syria to Italy and Germany, consider this your insider's guide to some of the world's most enticing destinations.

Destination: Cuba
Guide: Franklin W. Knight, professor of history, Krieger School of Arts and Sciences
Franklin Knight's first research trip to Cuba was in 1977, four years after he joined the Johns Hopkins faculty. Knight had studied comparative history at the University of Wisconsin in Madison, which sparked an interest in the social, political, and cultural aspects of Latin America and the Caribbean. He has since traveled extensively in those countries, examining everything from American slave systems to trade in Atlantic port cities. Knight frequently shares this knowledge through Johns Hopkins Alumni Journeys, including a cruise to the Lesser Antilles this past March. But a primary focus over the years has been Cuba. "I have an interest in looking at the general history of the New World and its contributions to world history. I think the modern face of world history began with the integration of the Americas," Knight says. "That includes everything from Columbus through Castro."
That first trip to Havana 34 years ago was "surreal," Knight says. "When I first arrived, the country was in an optimistic mood. Money was still pumping in from the Soviets; there were new cars from Argentina and Italy. There was this optimism that the revolution had arrived and would achieve all that it said it would." This was the last period when Cubans were on a nonmonetary economy, Knight notes, so there were no charges for rent, or riding the bus, or electricity. "The country just had this vibrant feeling. People called Castro 'Fidel' in those days, not 'El Comandante.'"
Knight has made 58 return trips to Cuba to conduct research, participate in panels, and study the culture and evolving politics of the country. His focus of late is the relationship between nationalism and state in Cuba. "In 1977, the government was your friend. An official notice would begin, 'Comrades,'" Knight explains. "Today the government is separate from the people. There is a distancing and an exaggerated formality. A government notice now reads, 'Citizens, it is requested of you . . .'"
Knight is currently writing a general history of the country and credits the many Cuban scholars he has encountered over the years with aiding him greatly in his work. "They have helped me to understand better their surrealistic native land," Knight says.
Knight's Guide to Cuba
Best time of year to go: Anytime, but for those in the far Northern Hemisphere, winter would be superb. It does get cool occasionally in Cuba, but that never lasts long.
Best way to get there: There are several charter flights from Miami. Air Canada has daily flights from Toronto, and Aeromexico has flights from Mexico City and Cancún. Air Jamaica has flights from Kingston and Montego Bay. From Europe the choice is even wider. Knight recommends going the official route and securing a license to travel in the country from the U.S. Department of the Treasury's Office of Foreign Assets Control.
Travel tip: Cuba requires that all foreign currency be changed to Cuban pesos. Cash is far better than traveler's checks. U.S.-issued credit cards are not acceptable in Cuba, and U.S. currency is exchanged at a punitive exchange rate. Canadian or European currency and credit cards are a good bet. Be careful with how much money is exchanged at any time because it is difficult to re-convert unspent Cuban pesos.
Getting around: Navigating Havana and Santiago is relatively easy. Long-distance travel requires careful planning. Rental cars and mopeds are available, but gas stations outside well-traveled routes are few and far between. Tours arranged by your hotel will take you to all well-known sites.
Be sure to bring: Anything you think you will need, from toothpaste to toilet paper. Aspirin and small batteries are particularly difficult to find.
Book a room at: The Meliá Cohiba, the Parque Central, or the Habana Libre hotels, in that order.
Restaurants: Steak at La Brasa restaurant in the Meliá Cohiba hotel or at La Pampa restaurant in the Hotel Comodoro; international fare at the Hotel Nacional de Cuba or at La Torre restaurant; chicken and local dishes at El Ajibe, La Cecilia, La Divina Pastora, El Barracon, El Patio, La Torre, and Tocororo; Chinese food at El Pavo Real, El Polinesio, and La Torre de Marfil.
Try the: Rice in all forms, with various beans or with chicken; fried ripe plantains; pork served in various styles; lobster.
Best off-the-beaten-path place: The interesting limestone formations called mogotes, near Viñales in Pinar del Río.
In advance of going, read: Aviva Chomsky's A History of the Cuban Revolution or Miguel Bretos' Matanzas: The Cuba Nobody Knows.
Destination: Germany
Guide: Andrew Talle, faculty, musicology, Peabody Institute
An accomplished cellist and researcher, Andrew Talle has spent more than a decade studying the early influence of J.S. Bach on his contemporaries. For this work, Talle heads to Leipzig, Germany, where he first began researching the composer in 2000. He lived in the city for three years to write a dissertation on Bach's keyboard partitas and their early audiences, then returned to Leipzig every summer to continue his research. Since June 2010, he has been on sabbatical there, preparing a book with the working title "J.S. Bach's Keyboard Music in the Lives of His Contemporaries."
Talle's research explores the influence that harpsichord and organ playing had on 18th-century social life. That work relies on documents Talle has discovered in archives all over Germany and beyond. "It is very difficult to find descriptions of solo keyboard performances from the early 18th century," he says. "Most of the time, daily events in private homes did not make it into the official record. While institutions need paper trails for payment purposes, there is no reason to record someone's sister sitting down to play the harpsichord for free, [noting] what she wore, what time of day it was, who was listening, etc." So Talle reviews materials that shed light on these intimate performances, from poems and novels to travel reports, diaries, and paintings. "Diaries are the best sources because it is only there that one finds reliable descriptions of actual concerts in private homes," he says.
How does Bach fit into all of this?
"He published quite a lot of his keyboard music, and I've been trying to figure out who bought it," Talle says. He has been examining all of the manuscript copies of Bach's music and the prints that he sold in an effort to identify who might have purchased them. Once he has a name, Talle searches archives to flesh out the person's biography. "In the end I will have around 200 people who knew Bach's keyboard music before his death in 1750, which should offer a fairly comprehensive picture of his audience, and a good basis for asking, 'What role did Bach's music play in the lives of his contemporaries?'"
Talle has had a few dramatic research breakthroughs. For years he studied a collection of music prepared for two countesses in Darmstadt in the 1740s. There were about 50 manuscripts copied by the same hand using the initials "Me" or "Mrle." Searching in a Darmstadt archive, Talle found that one of the countesses studied theology with a private tutor named "Merle" from Rauschenberg. After more sleuthing, Talle discovered a living descendant of Merle who helped determine through handwriting analysis that the man from Rauschenberg was, in fact, the countesses' music teacher. "This opened up entirely new avenues for research, and eventually allowed me to illuminate a great deal about the collection," Talle says.
As for the city of Leipzig, Talle has established a comfortable routine, enjoying the friendly nature of the local residents and the custom of afternoon tee und kuchen (tea, or coffee, with cake). "There is no better place for this than the coffeehouse Café Kandler, directly across from the entrance to the St. Nicholas Church," Talle says.
For a Bach-inspired trip, Talle suggests visiting the Bach Museum as well as taking the "Bach's Eye View" tour of the St. Thomas Church. "Every Sunday Bach would perform from the balcony at the back of this church. From here he had a good view of the pulpit and the entire congregation, and could coordinate his musical performances with the pastor," Talle says. Next year, Talle says a new hotel called Hotel Bach is scheduled to open across from the church in an 18th-century house.
Talle's Guide to Leipzig
Best time of year to go: June for the Bach Festival.
Before you go, read: Christoph Wolff's Johann Sebastian Bach: The Learned Musician. Or listen to Philippe Herreweghe's recording of Bach's Cantata BWV 2 ("Ach Gott, vom Himmel sieh darein"), which was first performed in Leipzig in 1724.
Tips for getting around town: Leipzig is very walkable. It takes about 15 minutes to walk from one side of the inner city to the other. Regular trams run between the city and the surrounding suburbs.
One phrase to know in the native language: "Ich hätte gern ein Stück von diesem Kuchen," which translates, "I would like to order a piece of this cake." (Then point!)
Try the: Heisse Birne, hot pear juice, at the Telegraph Restaurant and Café.
Where to eat: Talle, who lived in Hanoi and Hue on a scholarship in the late 1990s, recommends Sakura, which is popular with locals for sushi, and Umaii, which has delicious noodles. For German food, try Weinstock.
Nightlife: Visit the Barfussgässchen, a small alley with lots of cafes and restaurants, or the Gottschedstrasse area in the inner city. Südvorstadt has the best bars and lounges.
If you only have a few days: Visit the Bach Museum; take the tour of the tower at St. Thomas Church for a spectacular view of the city (weekends only); see a concert at the Gewandhaus or an opera or the Leipzig Ballet at the Opera House. And visit composer Felix Mendelssohn-Bartholdy's house museum with its wonderfully preserved interior.
Best off-the-beaten-path place: Völkerschlachtdenkmal, a monument built in 1913 to commemorate victory over Napoleon in 1813. It is the largest monument in Europe, a massive, dark stone structure with statues whose toes are bigger than the people standing next to them.
Where to stay: Downtown at the Hotel Seeblick, across from the main train station. For visitors who want to see more of the city and the locals (and hear considerably less English), try the Balance Hotel or the Lindner Hotel. Both are about 15 minutes outside of downtown via tram.
For a truly East German experience: Visit Sachsen Therme, which offers massages, pools, saunas, and a water park for kids.
Destination: Syria
Guide: Glenn Schwartz, professor of archaeology, Krieger School of Arts and Sciences
Glenn Schwartz knew he wanted to become an archaeologist when he was 8 years old. "I saw a Hollywood movie about ancient Egypt called The Egyptian, and I fell in love with the idea of old civilizations that were so exotic and like us at the same time," Schwartz recalls. Not long after, Schwartz borrowed a history text from his older brother and read about ancient Syrian culture. He was hooked.
His first archaeological trip to Syria came in 1978, when he was a graduate student. He's been traveling to the country ever since, studying, among other things, the emergence of urban life and societies in early history. In 1986, he joined the Johns Hopkins faculty and soon partnered with a colleague at the University of Amsterdam on an excavation of a Syrian site. That collaboration continues today in western Syria, with field research at Tell Umm el-Marra. Though the area was once a center of Bronze Age activity, it has been the subject of little focused excavation. "Until recently, Near East archaeologists interested in the birth of urbanization have focused on Mesopotamia, but we discovered that Syria also had early urban sites," Schwartz says.
Tell Umm el-Marra, occupied primarily between 2700 and 1200 B.C., has yielded exceptional finds, including an intact royal tomb from about 2300 B.C. with three layers of bodies and gold and silver objects (discovered first in June 2000 by Schwartz's graduate student Alice Petty). Initially, Schwartz was disappointed with the discovery. "The structure we were exposing was not what I expected," he says. "I had anticipated a different kind of building from a later period to answer some research questions I had. A tomb from 2300 B.C. confounded my plans. However, when I realized that this tomb was undisturbed and contained a wealth of information about mortuary practices and elite ideologies, I was happy to change my research plans. It was a good lesson on the need to be flexible and not to be too wedded to one's expectations."
Schwartz calls Syria a "hidden gem" and suspects most Americans avoid traveling there because of safety concerns. He says those fears are mostly unfounded (though he does acknowledge that, given current political events in the Near East, the situation may be tense and uncertain for travel right now). "In reality, it's extremely safe and wonderful to travel as an American in Syria." Tourism infrastructure is bountiful, with hotels for every budget and many fine restaurants and historic sites, he adds. "Hospitality is important and Syrians are friendly, welcoming people."
Schwartz's Guide to Syria
Best time of year to go: Fall or early spring. It's rainy and chilly during the winter and very hot in summer and late spring.
Before you go, be sure to read: Ross Burns' Monuments of Syria, an excellent guide to the historic and archaeological sites of the country.
Don't forget to pack: A hat and layers of clothing to protect against the sun.
Getting around: The buses are efficient, inexpensive, and relatively comfortable if you can endure the crazy scene of porters trying to apprehend your luggage and bus company representatives feverishly trying to get you into their buses when you arrive at the station.
One phrase to know in the native language: Shukran or "thank you." There's also maalesh, which means "It doesn't matter, never mind, don't worry about it."
Best places to stay: There are wonderful boutique hotels in the larger cities that are situated in renovated antique houses, full of charm and historical interest.
Best places to eat: The Old City of Damascus really comes alive at night, with lots of interesting spots to eat, drink, and have a good time in the warren of ancient passageways and old buildings. Aleppo's similarly picturesque Jdeideh quarter is also great, as are the restaurants around the Aleppo Citadel (if you don't mind a "dry" locale). The outdoor cafes in front of the gate of the Aleppo Citadel have a boisterous and fun atmosphere, crowded with people having a good time, in the evenings.
Try the: Muhammara, a piquant paste made from local red peppers and onions, crushed walnuts, and cumin (a popular spice in Syrian cuisine). Schwartz's favorite beverage is the local brand of beer called al-Sharq ("the East"). "You never know what you're going to get from one bottle to the next," he says, "which is part of the adventure."
Remember that: Modest dress is appreciated. Don't wear shorts in public, whether you are male or female. Also, Friday is a Muslim day off.
Nightlife: When they dine out, Syrians eat very late, so the restaurants and cafes are hopping well into the evening.
Be sure to visit: Damascus, Aleppo, Palmyra (Roman period ruins in a desert oasis), and Krak des Chevaliers (a very well-preserved Crusader castle).
And don't miss: The "Dead Cities" in the rocky area west of Aleppo, which are the remains of hundreds of villages from the late Roman period. The most famous is the church of St. Simeon Stylites. Simeon was a monk who lived on top of a pillar for 40 years in the sixth century A.D.; after he died, a huge church was built around the pillar. The remains of the building are located on top of a hill, with a dramatic view, and the ruins themselves are strikingly beautiful. (Schwartz says to pack a picnic, since Syria is no Disneyland and concessions don't exist in the Dead Cities.)
Destination: Nepal
Guide: Joanne Katz, professor and associate chair, director of the Global Disease Epidemiology and Control Division, Bloomberg School of Public Health
Joanne Katz says that growing up in apartheid South Africa greatly influenced her decision to go into public health. "I saw enormous injustice as a child," she says. "I have always wanted to mitigate, in some small way, what I witnessed there. I believe public health is one way in which one can live out the ideal of social justice and help to repair the world."
For years, her research has focused on maternal and child health in Nepal. Katz's early studies explored what impact nutritional deficiencies or the burden of infectious disease had on mothers and their children. Today, Katz has three major trials running. The first looks at the damaging health effects of traditional mud-brick cook stoves, which create an exceptional amount of indoor air pollution and lead to respiratory infections, as well as reproductive issues such as prematurity and low birth weight. Katz and her team are replacing these mud stoves with ones that vent to the outdoors and measuring whether the new stoves reverse negative health effects.
A second trial studies the Nepalese practice of massaging infants with mustard seed oil, which mothers believe encourages health and strength, and examines whether using sunflower seed oil instead might benefit infants by regulating body temperature or supporting growth. The third trial attempts to quantify the benefits of giving the influenza vaccine to pregnant women (already recommended in the United States) to protect mother and infant in the first few months of life. "If this is beneficial, the flu vaccine could be added to the program that provides tetanus vaccines to pregnant women without too much additional cost," Katz says.
In addition to the trials, Katz tracks the impact of hiring local women to help execute the research. "We have been able to document how employment in our research has transformed the lives of these women and their families," she says. "Women have low status and are much less likely to be literate than men. These women were provided training, uniforms, and a worker ID badge, and went out to collect data." As a result, their status went up within the community. "Their advice was sought, they became lenders of money to other village women, and the community approached them to run for political office. I love that our research has affected the lives of those we have employed, not just those who were the recipients of the findings of our research."
In her 23 years traveling to Nepal, Katz says her greatest discovery has been the interconnectedness of humanity. "Even though I am a world away from where I come from, women are just the same as me, wanting the same things for their children, health and well-being, education and happiness," she says. And as for the country itself? "It is the most different place from my own culture I have ever been to, and its tolerance, diversity, and cultural richness make it a unique destination," Katz says. "Everyone will find something they seek here."
Katz's Guide to Nepal
Best time of year to go: October, early November, or March.
What to pack: Rain gear in monsoon season, medicines you may need, a flashlight (electricity is notoriously unreliable), and a good camera.
Getting around: Do not use the three-wheeled taxis. Regular taxis are fine, but make sure to fix the price before you get in. Buses are very crowded.
One phrase you should know in the native language: Namaste, which is an all-purpose greeting, said with your hands together, as though in prayer.
Where to stay: Dwarika's Hotel is a beautifully restored set of Newari buildings (Newars are the indigenous ethnic group of the Kathmandu Valley). Hillary Clinton, Bill Gates Sr., and Prince Charles have all stayed there. The restaurant, Krishna Pan, serves traditional Newari food and servers wear the varied dress of different tribes of the Kathmandu Valley.
Be sure to avoid the: Water. Do not take ice in any drink. Do not eat salad anywhere.
Be sure to try: Tumba, a Tibetan drink made with fermented millet and hot water consumed from a wooden mug through a bamboo straw; it is wonderful during the cold winter evenings. Sukati, a spicy fried meat, and momos, dumplings stuffed with meat or vegetables and dipped in a spicy tomato sauce. There's also dal bhat, literally lentils and rice, a traditional dish of Nepal, eaten as both breakfast and dinner.
Whatever you do, don't: Show the soles of your feet to anyone. Never put your feet up on a chair or desk. When receiving something from someone, take it with your right hand or both hands but not the left one.
For souvenirs: Tibetan carpets, pashmina shawls, carved wooden windows in the Newari style, brass bowls, Buddhist religious paintings called thangkas, and paintings from the Maithilee people who live in southern Nepal. There is a shopping area called Babar Mahal Revisited where you can find many of these items.
Best off-the-beaten-path place: The temple of Changu Narayan, in the Kathmandu Valley.
Be sure to see: Bhaktapur, a medieval city in the Kathmandu Valley that is now a UNESCO World Heritage Site with restored Newari temples and palaces. Also go to the Patan Museum and the Patan Durbar Square, where the architecture dates from many different eras and the artwork provides a history of the valley region.
If you can't make it to Nepal, read: Love and Death in Kathmandu: A Strange Tale of Royal Murder, by Australian journalists Amy Willesee and Mark Whittaker, about the murder of the king and his family in 2001.
Destination: Italy
Guide: Stephen Campbell, professor and chair, Department of the History of Art, Krieger School of Arts and Sciences
With an interest in Italian Renaissance and baroque art, Stephen Campbell's second home has been Florence, Italy. Campbell began traveling to the city in 1990 as a student at Johns Hopkins (before joining the faculty in 2002) and has returned at least once every year. He also lived there for several years. The majority of his research happens in Florence's Kunsthistorisches Institut, a German research institution dedicated to the history of art and architecture in Italy. The library has more than 310,000 volumes, some extremely rare. "If you do Italian Renaissance art, you have to use this institute in Italy. It's the center of the industry, like Hollywood is to movies," Campbell says. "You see everybody there. People I've known for 20 years. Everybody passes through Florence."
Campbell's intensive study has resulted in several books on key Renaissance artists, including Cosmè Tura of Ferrara: Style, Politics, and the Renaissance City, 1450–1495 (Yale University Press). Tura was a famous painter living in the city of Ferrara and working for the Este court. Campbell's book offers new insights into Tura's status in the court and the urban culture of Ferrara and how those environments impacted his distinctive artistic style. Campbell has also studied Paduan artist Andrea Mantegna, and he has just completed a general history of Italian Renaissance art. In addition to the hours spent at the German institute in Florence, Campbell conducts research at the State Archive of Mantua in Lombardy, Italy, which offers a rich repository of information on the Renaissance, as well as in libraries in the northern city of Modena.
Because Florence is such a tourist destination and because the dollar has been weak of late, Campbell says it takes a little more tenacity to navigate the city as a scholar when it comes to affordable lodging and seeing artworks. Crowds at the famous Uffizi Gallery, for instance, make scholarship access in off-hours paramount to his work. "There are parts of the Uffizi that you can't normally get into easily, like a corridor that goes across the Arno River." Known as the Vasarian corridor, it is a kilometer-long passageway that once connected the museum to the Medici offices across the river. Today it displays paintings from the 600s and 700s.
There are also many private collections that tourists-in-the-know may access. One of Campbell's favorites is the Palazzo Corsini, a baroque castle near the Arno that was built in the 1600s and is still owned by the Corsini family. "Private collections are only open on certain days," Campbell notes, so it's important to check schedules if you hope to get inside.
Campbell's Guide to Florence
Pack: Comfortable shoes. Taxis are plentiful but most of downtown is for pedestrians only and not accessible to automobiles.
Be sure to try: Peposo, a peppery beef stew from Impruneta outside Florence, traditionally made by ceramic workers slow-cooking the beef in the embers of their kilns.
Avoid: Wearing clothes more appropriate to a beach. Men over 20, for instance, should not wear shorts.
Nightlife: Nightlife is generally for a very young crowd, Campbell says, but there is plenty of jazz in Tuscany for a more grown-up night on the town.
Best off-the-beaten-path places to visit: La Specola, an 18th-century medical museum near Palazzo Pitti, and the Museo degli Argenti, a spectacular collection of decorative arts and other precious objects from the Medici court, located in Palazzo Pitti.
If you only have a few days, be sure to see: The Battistero di San Giovanni and the Duomo Cathedral; the Bargello palace and museum, which houses masterpieces by Michelangelo and Donatello's David; Museo dell'Opera del Duomo; the San Marco church and its Fra Angelico museum located in the convent; the Galleria Palatina in Palazzo Pitti with significant works by Titian and Raphael; San Miniato, Santa Maria Novella, and Santa Croce basilicas; and, of course, the Uffizi, but be prepared for the enormous crowds.
Travel guide: Blue Guide Florence.
Before you go, read: David Leavitt's Florence, A Delicate Case and The Last Medici, by Harold Acton.