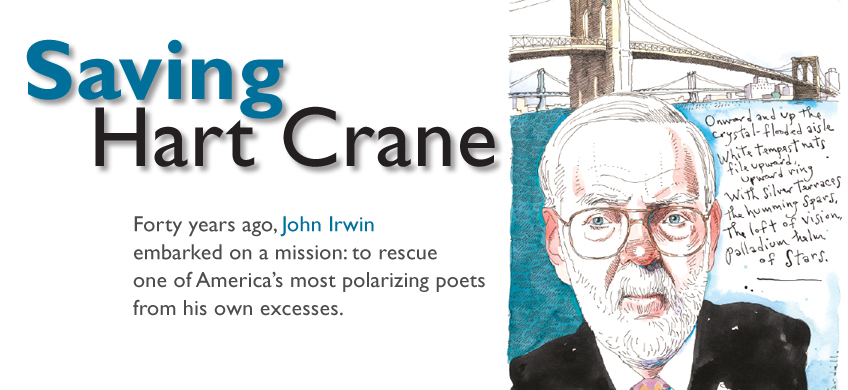 On our second meeting, I tell John Irwin that I've been busy reading his favorite poet, Hart Crane. Like most civilians in the provinces outside university literature programs, I'd had scant experience with Crane, an American poet of huge ambition and unsteady temperament who died in 1932 at the age of 32. He left behind a small, knotty body of work that is invariably described as "difficult." That's enough to scare off most casual readers. Some people passionately love Hart Crane. Others consider his work either grandly flawed or completely terrible. And a great many in-betweens vaguely recognize the man's name, wonder if he's related to Stephen Crane (he's not), but have never actually read his poems.
That's where I was, but now I'd just spent a week with Crane's verse. It's, well, it's something—ornate, overstuffed, as rich and dense as a flourless chocolate cake. "Did you like it?" Irwin asks. There's eagerness in his voice.
Hart Crane is John Irwin's enduring literary love. In the late 1960s, he wrote his dissertation at Rice University on Crane's "logic of metaphor," the poet's own term for his screwball technique of rendering lines such as these:
While Cetus-like, O thou Dirigible, enormous Lounger
Of pendulous auroral beaches,—satellited wide
By convoy planes, moonferrets that rejoin thee
On fleeing balconies as thou dost glide . . .
Since 1970, when he arrived at Johns Hopkins as an assistant professor in the Department of English, Irwin has taught a graduate seminar on the poetry of Crane, T.S. Eliot, and Wallace Stevens. And this fall, he'll publish a book of criticism, Hart Crane's Poetry (Johns Hopkins University Press), that focuses largely on Crane's maybe-masterwork, The Bridge. By Irwin's reckoning, it's the first new book of criticism on Crane's poetry to be published in decades. Irwin has been working on it, off and on, for 41 years.
Its central argument is straightforward enough: The Bridge, a 1,254-line ode to the Brooklyn Bridge that took Crane more than seven years to write and was received with mixed to hostile reviews, is the best 20th-century long poem written in the English language—"and not by a little," Irwin declares. "By a lot."
That's a claim bold enough to stir the hearts of Hart Crane aficionados worldwide, even as it bucks a critical consensus that has long consigned The Bridge to the close-but-no-cigar shelf. At stake is Crane's literary reputation, and maybe a chunk of Irwin's, too. But its author seems like he would be happy just to rally a few more readers to Hart Crane's side.
I quickly assure Irwin that I did indeed like The Bridge. And I wasn't lying, exactly. But the full truth, as it often is with Hart Crane, is a little more complicated.
HOW DO YOU take 41 years to write a book?
"I write very slowly," says Irwin. "And I got sidetracked."
The longer answer is that Irwin established himself with dual appointments in the Department of English and the Writing Seminars, where he has alternated between writing and teaching literary criticism and producing his own poetry under his pen name/alter ego John Bricuth. For 19 years Irwin served as chairman of the Writing Seminars, stepping down in 1996 to return to full-time teaching. His literary criticism has covered William Faulkner, Edgar Allan Poe, and Jorge Luis Borges. But through it all has been Hart Crane.
Irwin first found Crane as an undergraduate in the early 1960s. "I was under the thrall of T.S. Eliot then—he was the arbiter of all things good in poetry," he says. "But he wasn't quite American enough. Like Pound, he was a faux European." Irwin, Texas-raised and still disarmingly plainspoken (a favorite expression: "Golly!"), heard something familiar in Crane's words. "I thought, 'This is what American poetry sounds like.' You fall in love with the sound of his language."
That's often how it is with Crane fans. Harold Bloom, the Yale critic who is among Crane's most outspoken defenders, has long said that his life as a reader of poetry began with the preadolescent discovery of these (mystifying) words in the Bronx library:
O Thou steeled Cognizance whose leap commits
The agile precincts of the lark's return . . .
In a Paris Review interview, Bloom enthused that "[Crane] writes each lyric in such a way that you literally feel he's going to die if he can't bring it off."
Which, of course, is more or less what happened. Crane's short life was a train wreck—a teenage suicide attempt, followed by bitter estrangements from his mother, a Christian Scientist, and his father, a well-to-do Cleveland candy maker who disapproved of his son's habits. Living as a semi-closeted gay man on the fringes of the cultural limelight in New York and Europe, Crane had affairs with sailors, drank too much, got in fights, and couldn't hold a job. "Crane thought that if he couldn't live exclusively as a poet, then he didn't want to live," Irwin says. "He was given to it completely, wanting almost to maintain an ancient sense of the role of the poet—that it was the highest calling in a culture, and if the culture couldn't support somebody like that, then they didn't deserve to have poets."
Armed with a high school education and a fevered sense of his own abilities, Crane stormed the literary world with his first collection of poems, White Buildings, which was hailed as a promising, if somewhat undisciplined, exercise in Whitmanesque lyrical abandon. For its follow-up, he doubled down on the lyricism and added an epic theme. He conceived The Bridge in sweeping terms—a response to Eliot's The Waste Land that would meet that poet's doomy modernity with all-American pluck. He chose as its central image the heroic structure outside his apartment window, and he invested it with a heavy symbolic burden. The bridge of The Bridge was to span time and space—Crane celebrated the technological achievements of the 20th century, marveling at elevators and zeppelins and subways, while simultaneously invoking a vanished pre-European world. Jostling for attention amid the book's 15 component poems is a cast of characters that includes Christopher Columbus, Pocahontas, and the Wright brothers. Crane promised in a 1923 letter that this yet-unwritten work would be nothing less than a "mystical synthesis of 'America.'" He then wrapped this enormous collection of ideas in a purplish mash-up of Elizabethan and Jazz Age language.
. . . Onward and up the crystal-flooded aisle
White tempest nets file upward, upward ring
With silver terraces the humming spars,
The loft of vision, palladium helm of stars.
By most accounts, he failed—spectacularly. Crane's friend and literary supporter, the poet and critic Yvor Winters, called The Bridge "a public catastrophe" in a prominent magazine review. "Fragmentary, ejaculatory, and overexcited." Winters dismissed one short poem in the book, "Indiana," as "probably one of the worst poems in modern literature."
His confidence shattered, two years later Crane jumped off a ship.
In Irwin's view, the suicide served only to validate those critics' view of Crane's life and work—as a "magnificent failure" by an overmatched writer. Langdon Hammer, a Yale scholar who edited the Library of America's recent collection of Crane's complete work, hears echoes of that judgment today when critics debate the bona fides of The Bridge. In 2007, poet William Logan reviewed the collected Crane in the New York Times, a rollicking hatchet job ("Reading The Bridge is like being stuck in a mawkish medley from Show Boat and Oklahoma!—you'd buy the Brooklyn Bridge to make it stop") that infuriated Crane partisans. "That view that Logan repeats has been around since the 1930s: 'He's a great lyric poet, but he made a huge mistake in trying to write an epic,'" Hammer says. To Hammer, the mere fact that people are still having this argument, 80 years later, means that the guy was onto something: "Crane still provokes people in important ways."
And, as much as some fans might balk at the notion, Crane's ability to make poetry will forever be judged by the ways he failed to conduct his life. "It's poetry bound up in a life that was dedicated to poetry in a way that very few lives have been," Hammer says. "Crane's life and the legend of his life are part of the work. You can't view him in this disinterested light. That's why he goes on haunting people. There's a great deal at stake in his poetry. It resists ordinary critical analysis."
TO IRWIN, THE problem was simple: The critics didn't get it. Sometimes he didn't get it, either. "There are poems that I love, but I can't tell you what they mean," he admits.
But, over the years—and then decades—he applied himself to the task of seeing the world from Hart Crane's eyes. He not only read the writer's correspondence, he tracked down books Crane mentions in his letters, from sailing histories to Greek mythology. The aim was to study the world as Crane, a first-order autodidact, studied it.
One of Irwin's key arguments, for example, is that Crane borrowed heavily from art and architecture, modeling the poem's structure on paintings by El Greco and Michelangelo's frescoes for the Sistine Chapel. Poring through letters, he detects the influence on The Bridge of historian Oswald Spengler's account of the development of Renaissance painting in the 1918 book The Decline of the West, then much discussed in cultural circles, and speculates that Crane was further inspired by a 1925 story in the New York Times about the discovery of Michelangelo's self-portrait amid the tortured figures in The Last Judgment. In short, Irwin reassembles the emotional universe that created The Bridge, putting the pieces of Crane's unruly life back together and showing us how this person created that poem. Hammer calls it "a work of imaginative scholarship."
It also shows a new side of the artist; instead of an unhinged wild man, Irwin's Crane is a fastidious builder. "Crane is simply not credited with being a deep and systematic thinker. That's what John's done," says Hammer. "He's written a book from Crane's point of view that supports the view Crane himself had. It's the counterargument that Crane would have made."
Placing the reader inside the poet's head does more than just shed light on some of his more impenetrable passages. It makes you a party to his cause. You see how the bad reviews must have stung the poor guy. Some of the critics who turned their knives on Crane once raved about his gift. Where'd it go? What happened? And what writer hasn't known the secret terror that one day no one will like, or get, what you're trying to do?
And that's when Hart Crane becomes less an insufferable gasbag and more a tragic hero, the kind of mythic personality that filled his poetry. And the poetry itself sounds better, too. Once-overripe lines sing with purpose; logic emerges from the verbiage. Crane isn't always more readable after one absorbs Irwin's book, but he seems more important, more human.
Making the case that a willfully difficult artist is worth reading, says Hammer, can do more than just burnish one obscure poet's faded star. "Hart Crane's career raises all kinds of questions about what poetry can do, and about what poetry is," he says. "Is poetry an experience, or a reflection of an experience? Does it deal with the future or the past? Can private perception become public communication? Is poetry something to be lived? Can it make a world, or does it just mirror one?"
Somewhere amid all those existential mysteries lie far simpler questions: Is it any good? Did you like it?
Irwin hopes so. And all the lit crit tools he deploys in his renovation of The Bridge shouldn't distract from that goal. "I gauge a work of art," he says, "by its ability to break my heart."
David Dudley, A&S '90, a graduate of the Writing Seminars, is a writer and editor based in Baltimore.