Catherine Whitehouse, A&S '77 (MA), '78 (PhD), and Peter Whitehouse, Med '76, A&S '77 (PhD)
As the day begins at the Intergenerational School in Cleveland, a classroom of youngsters prepares for a field trip to the zoo, while down the hall a dozen senior citizens stretch gently before a workout. A few pre-teens wrap up breakfast in the cafeteria, discussing plans for the after-school computer skills class they will teach for seniors, and a retired office manager arrives for a reading session with the 8-year-old student she's mentored for two years.
Such interaction between young and old–and the relationships and experiences that grow from it–is central to the ethos of this pioneering K – 8 public charter school, launched in 2000 by Catherine and Peter Whitehouse.
The Intergenerational School (TIS) is a confluence of the couple's shared passion and their individual expertise. Catherine trained in child psychology and education at the Krieger School of Arts and Sciences and worked at the Kennedy Krieger Institute. Peter, who came to Johns Hopkins (where his father had been a pediatrician) for an MD/PhD program and later joined the faculty, is a geriatric neurologist at University Hospital's Case Medical Center and professor at Case Western Reserve University. He is also co-author of The Myth of Alzheimer's: What You Aren't Being Told About Today's Most Dreaded Diagnosis (St. Martin's Press, 2008).
Over the years, the couple, who met as doctoral students in the Psychology Department and have been married since 1978, would discuss the many topics stemming from child development and aging. Their conversations eventually ignited an idea, Catherine recalls: "What if you had a school that embodied a learning environment that welcomed people of all ages to come and learn together, working from a perspective of the life span?"
In 2000, they opened TIS with two teachers and 30 students in the Fairhill Center, an inner-city campus for organizations providing services for older adults and their caretakers. Seniors–more than 350 over the past nine years–volunteer as reading mentors and class assistants, joining students for field trips and helping with writing projects. This past June, TIS (which has grown to 15 teachers and 176 students, 97 percent of whom are minority and 65 percent of whom live at or below the poverty rate) graduated its first class of three into high school.
Challenging traditional concepts of classroom age segregation, the school's curriculum advances students, typically ages 5 – 14, through a continuum of learning stages, rather than grades, and is aligned with state benchmarks and evaluations. A teacher's classroom is capped at 16 students, with a 3- to 4-year age range, based on where the student is on the learning continuum. The idea, says Catherine, who is the school's principal and chief educator (Peter is director of adult learning), is to tailor an education to individual students while teaching them that learning is a lifelong process and a personal responsibility.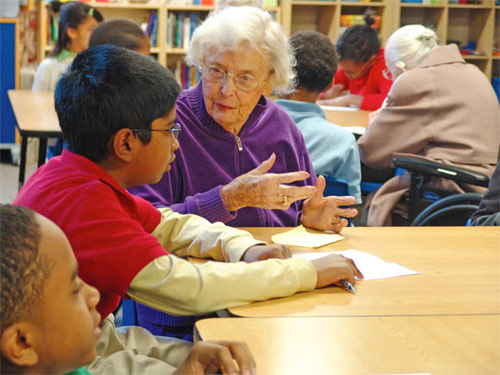 In 2008, TIS was ranked seventh of Cleveland's 136 district and charter schools, based on the state Performance Index, and was one of seven K – 8 charter schools featured in a report by the U.S. Department of Education, highlighted for its innovative approach to serving an at-risk population and for "bringing new meaning to lifelong learning." On the Ohio Achievement Test, the school's average test scores beat the state's average in nearly every measured category.
Beyond academic performance, Catherine says, the intergenerational experience is important for students, who learn about healthy aging and the value of senior citizens in the community. It's also good for seniors. A recent study found that seniors living in a local retirement community who volunteered at the school were less likely to be depressed or indicate stress and demonstrated increased cognitive function over residents who did not volunteer or otherwise stay socially active.
In the end stages of life, says Peter, the feeling that one's work is making a difference in the world, in any way, can be the factor that helps to deal successfully with dementia and the stress of aging.
"We all need a sense of purpose as we age," he says. "For Catherine and me, this school is our purpose and, we hope, our legacy."
---